ADMIN PLEASE DON'T DELETE MY WRITE-UP AGAIN!
All right lets start to get those front binders in serious order. A quick upgrade for your front braking system is some trick aftermarket pads. I'll be adding EBC HH pads in place of the stock ones on my GSX-R750.
First we'll lay out some basic tools needed for the job, nothing out of the ordinary:
and the sexy new pads:
first you will need to remove the two brake pad mounting pins from the caliper.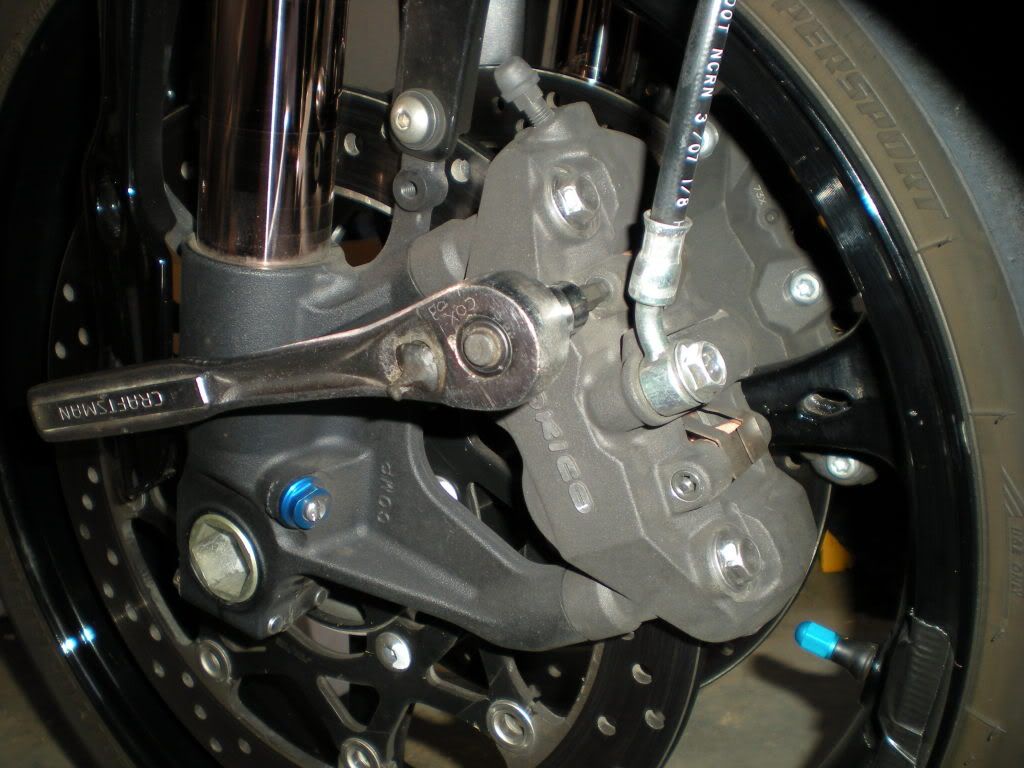 Next remove the two caliper mounting bolts, and remove the caliper from the disc. Be careful not to scratch up your rim, this will be a tight squeeze! Also, do not allow the caliper to hang by the brake line or put excessive pressure on the lines.
Now your old pads should just pop right out. Be sure the spacers between the caliper and the mount don't get lost. I just leave them seated in the caliper mounts where they belong. Use some brake clean and a rag to clean the pistons. You'll also need to press the pistons back into the caliper to allow the thicker new pads to slide over the disc.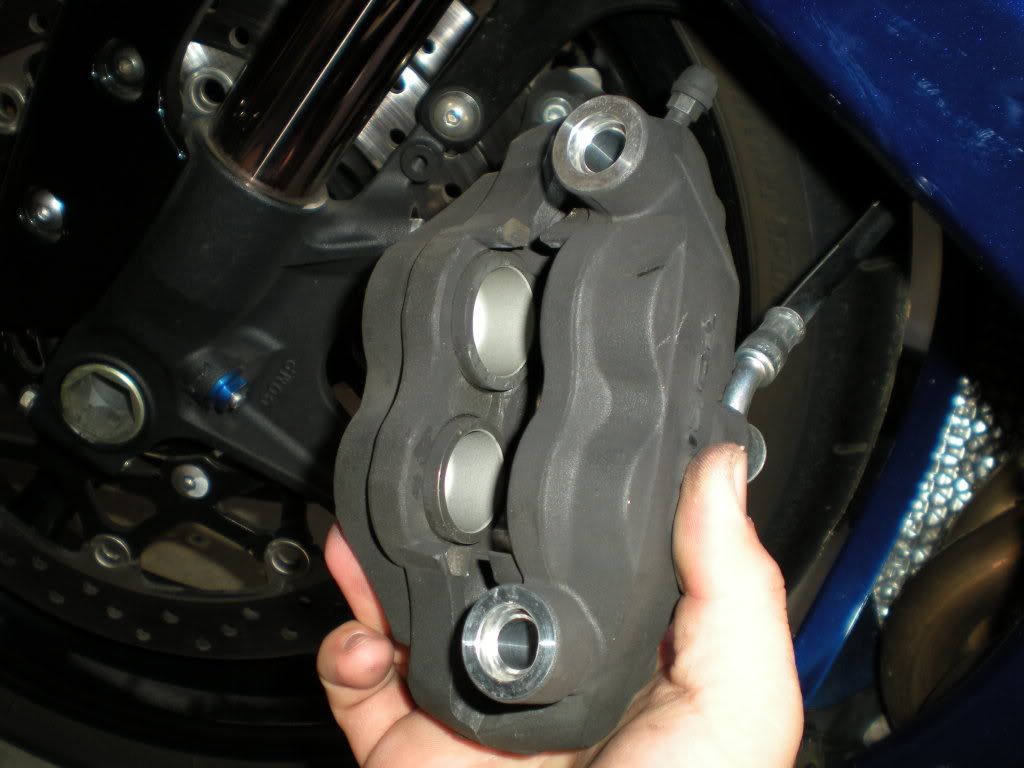 Next you'll want to take the metal backing plates off of the stock pads and put them onto the new pads. Then you can go ahead and put the new pads into the caliper. Be careful when handling the new pads. You do not want to get your grubby little dick beaters all over the friction material. If you do, CLEAN THE PADS! Clean brakes function properly.
Now you'll want to thread the pad mounting pins in a couple turns so the pads aren't falling out while you re-install the caliper. Make sure the pads are seated in their respective sides to allow ample clearance for the disc in between. Re-install the caliper over the brake disc. Make sure those spacers are there again!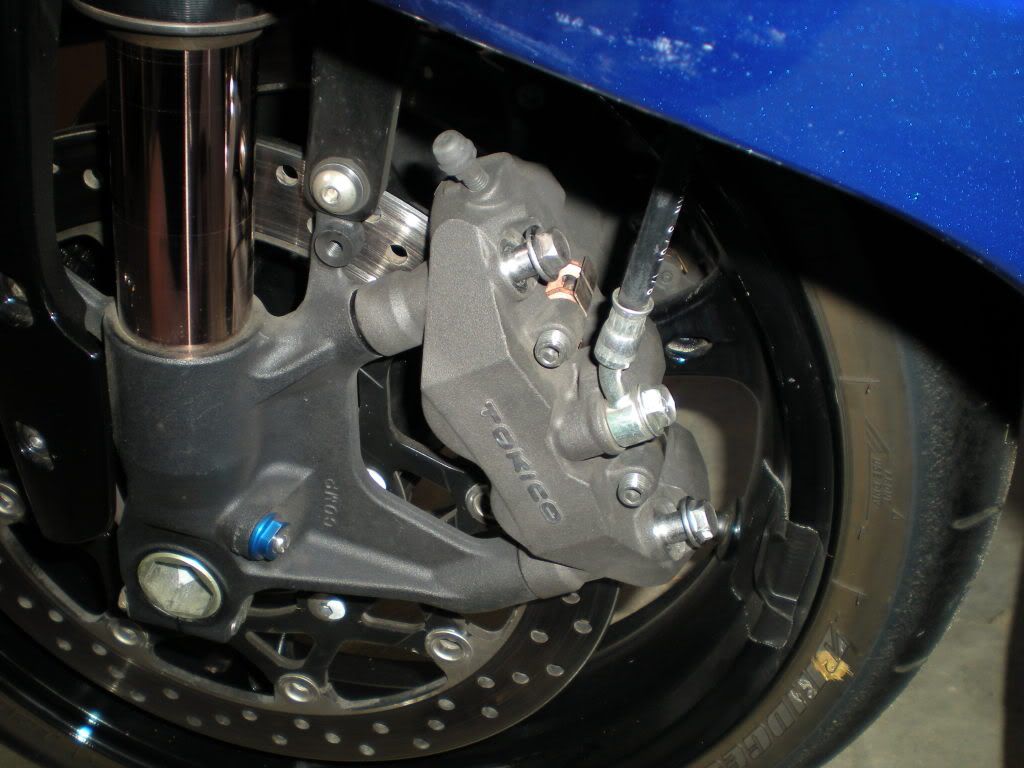 Now go ahead and tighten everything up. Torque to the specs provided in your manual. For the k6/k7 600/750's the pad mounting pins are 11 lb/ft, and the caliper mounting bolts are 25.5 lb/ft. Squeeze the front lever a few times to seat the pads and make sure the brake pressure builds back up.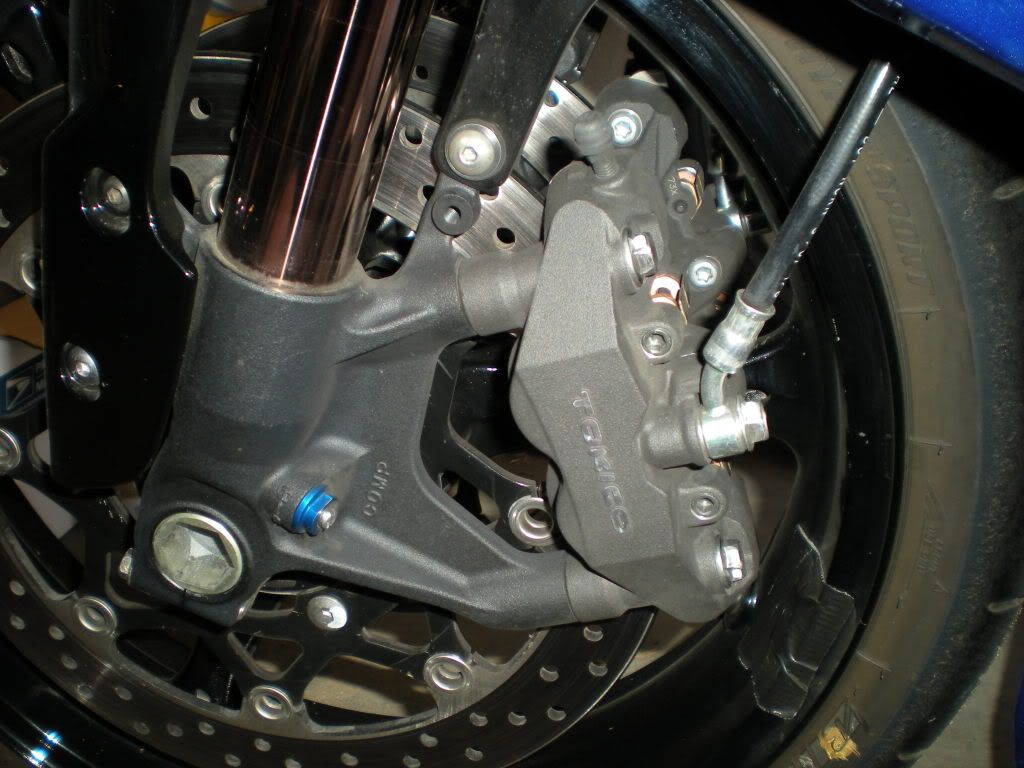 The other front caliper is exactly the same as the first.
Complete both sides, and now you'll be ready to roll stoppies like Jason Britton
(just kidding, stoppies can hurt and get you made fun of. just ride!)